INGREDIENTS (serves six):
1 bottle Ithaca Flower Power India Pale Ale
two cups of arborio or other risotto rice
2 tbsp olive oil
1/2 cup white wine
approx. six to eight cups of best quality vegetable stock, warmed (better to have too much at hand than not enough)
1 pound of garlic scapes, cut into half-inch lengths
1 onion, chopped
1 tsp dried thyme
1 cup grated aged Prima Donna cheese (it's a Gouda style cheese; any nutty Gouda will do)
1 cup mixed fresh herbs (we used chives, lemon thyme, and Italian parsley)
salt and fresh black pepper
6 eggs, cracked into ramekins
1 pot of water splashed liberally with white vinegar
1) Heat oil in a heavy-bottomed pot and add onions, sweating 1-2 minutes.
2) Add rice and dried thyme and toast until fragrant, about 4 minutes. This affects the consistency of your risotto; do not skip.
3) Stirring constantly, add white wine; keep stirring 1-2 minutes, until liquid is absorbed.
4) Add about a cup and a half of warm broth to the pot; bring to a boil and then reduce to a simmer. Again, stir constantly, until the liquid is mostly absorbed.
5) When nearly all the liquid is gone, add 1/2 cup more vegetable stock. Continue this process, stirring constantly, adding broth as needed, for six minutes. Meanwhile, heat your water and vinegar mixture for poached eggs until lightly boiling.
6) Add garlic scapes to rice. You should have about six to eight more minutes of stirring/broth adding/cooking left for the rice to be done, and meanwhile the scapes will turn tender and bright green.
7) After about 15 minutes total cooking time in the liquid, taste your rice. If it is too firm, continue adding liquid, tasting frequently. When the rice is done, stir in the cheese and turn off heat.
8) Slide eggs from ramekins into poaching liquid and simmer for exactly four minutes.
9) Meanwhile, add most of your herbs to the rice, adjust your seasoning, and plate the risotto into six bowls, each with a slight dip in the center for the egg.
10) After simmering for four minutes, use a slotted spatula to remove your eggs from the liquid; plate them in the center of the risotto, season, and sprinkle with remaining herbs.
11) Open Ithaca Flower Power India Pale Ale. Enjoy together.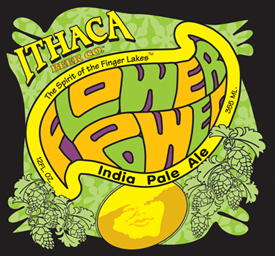 THE BEER:
The beer is so freaking good. If you can get your hands on this brew, do so at once. Gabe and I love it when the locals really slam one out of the park--Ithaca is a New York brewing company, and we can very often find this on draft. Flower Power is both hopped and dry-hopped, and five different times to boot, which makes sense when one takes in the layered but extravagantly fruit-forward nose. Go ahead, take a sip of it. Let hints of pineapple and pine horse around with each other in your mouth. You could never regret such a thing. And they bottle, so do you have an excuse? No. Just pull up your bootstraps and drink this utterly delicious beer.
THE SEXY:
Think about making brunch, and the way the perfect oatmeal coats your palate in the early morning. Think about eggs, and the way that their insides gooze when poached, spreading their buttery justice all over whatever else you have on your plate. Think, for a moment--if you'll pardon me--about mornings following long nights and delightful acquaintances, perhaps even particularly delicious acquaintances, and then think about what you might want to cook for any...stragglers. Think about your loved ones...your family staying over, your best friend from out of town. What's the sexiest food possible? THIS FOOD. This food right here. Sexiest. Food. Ever to have. I made it with my husband Gabe, but I now consider it free game.