INGREDIENTS (serves 4):
(for the salmon)
1 large (we used a 2-pound) fillet of wild Copper River salmon, cut into single portion-sized steaks, skin on
3 tbsp. butter
2 tbsp
naam prik pow
(Thai red chili sauce)
3 tbsp. honey
4 tbsp. (about 5 sprigs) minced fresh tarragon
Salt and black pepper
1) Pre-heat oven with a rack in the middle to 375 degrees. Melt the butter in a small saucepan and whisk in the chili sauce and honey over medium heat. When the sauce thickens slightly and all the ingredients are incorporated, about 4 minutes later, remove from burner.
2) Set the salmon steaks skin-side down on a oiled, foil-wrapped cookie sheet. Brush half the glaze onto the top of the steaks, sprinkling liberally with the tarragon. Season.
3) Place the cookie sheet in the oven and bake for 4 minutes. After 4 minutes, pull steaks out and brush the remaining half of the glaze over the tops. Return to oven for another 4 minutes.
4) After approximately 8 minutes total cooking time--10 for very thick steaks--remove from oven when just barely cooked through.
(for the oyster sauce slaw)
1/2 pound shaved bicolor cabbage (use one color if you prefer either all red or all green)
1 tbsp. sesame oil
1 tsp. soy sauce
1 tbsp good-quality oyster sauce
1 tsp. rice wine vinegar
1/3 cup minced chives
1 tsp. flax seeds
Salt and pepper to taste
1) Whisk all the ingredients except the cabbage, chives, and flax seeds in a small bowl, or shake in a jar. Adjust seasoning to taste.
2) Sprinkle chives and flax seeds over the shredded cabbage and then drizzle dressing over all. Toss and serve.
(for the potatoes)
1/2 pound baby red potatoes, well scrubbed
1 cup flat-leaf Italian parsley leaves, minced
1 tbsp. toasted black cumin seeds
1 clove garlic, minced or pressed
2 tbsp. extra virgin olive oil
1 tbsp. whole-grain Dijon mustard
1 tsp. rice, herb, or cider vinegar (depending on preference)
Salt and fresh cracked black pepper
1) Steam the potatoes until tender. Cut them in halves.
2) Whisk the remaining ingredients very briskly, or shake them in a salad dressing shaker or lidded jar.
3) Dress the potatoes, coating them well. Adjust salt and pepper to taste.
(for the beer)
1 bottle Hoegaarden witbeer
1) Open Hoegaarden
2) Enjoy together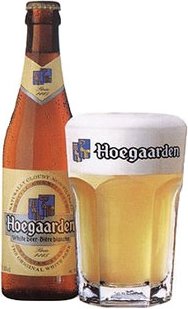 THE BEER:
Most folk are already pretty well versed in the most famous of the Belgian styles, but Hoegaarden deserves a shout-out nevertheless. It's not only a great summer beer and a lovely beer with fish, it's also the most balanced and tasty of all the witbeer styles we've tried. In addition to the water, yeast, wheat, and hops, that all beers contain (one hopes) witbeers add spices--in general, coriander and dried Curacao orange peel, but occasionally other notes as well. The problem with the style as a rule is that when it's done wrong, the brew can get a touch soapy, which is rather unpleasant. Hoegaarden, however, avoid such pitfalls and just tastes like an unfiltered summer's day in Europe. Enjoy it with salmon!